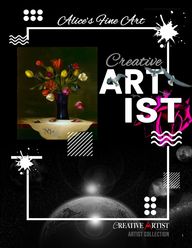 Return to flip book view
Alicesfineart
Page 1
1www.creativeartistmagazine.com
Page 2
2www.alicesfineart.comHERNANDEZ-GAON AHERNANDEZ-GAON AHERNANDEZ-GAON AHERNANDEZ-GAON AThe old Italian and Dutch master have always intrigued me, their light and shadow (chiaroscuro) eects are so amazing. I love to nd unique antiques or objects for my set-up and make them shine as the main character in the painting. I contribute the look of my painting to making my won canvases from raw linen, rabbit skin glue and oil primer.~Alice Hernandez-Gaona
CLICK HERE TO VISIT ALICE'S FINE ART WEBSITE
Page 3
3www.creativeartistmagazine.comAlice was born in 1963 in Los Angeles, California and was the sixth of seven children. Her father Alfred Hernandez was an artist and Alice was always intrigued by his artistic work.She knew that she would one day follow her dream and become an artist, however it wasn't until she turned 45 years old that she fully embraced her calling to be an artist. Alice studied with David Leel, who is considered as one of the great masters of our time. She also attended Los Angeles Academy of Fine Arts and Kline Academy.Achievements include Best Oil Painter Award: La Quinta Art Festival (2014)Best Oil Painter Award: Laguna Art Fair Festival (2011)Honorable mention: Beverly Hills Fall Show (2011)"Make each day your masterpiece"Personal QuoteAs the Editor of Creative Artist Magazine, I have interviewed and written many articles. However none have touched my life like the one I did for Alice. My interview was with her husband Phil. He took me on a journey by sharing the stories behind many of her beautiful paintings. Hearing him describe the various detail that lead Alice to paint a particular picture, elevated the experience of seeing her beautiful paintings. Although, Alice Hernandez-Gaona didn't fully embrace her talents until in her 40's, it seemed as if she had been painting her whole life. Creating extraordinary skilled works of art. Even though she is no longer with us in body, her legacy of ne art will touch the lives of generations to come.Pauline SamuelsEditor, Creative Artist Magazine
Page 4
4www.alicesfineart.comALICEALICEHERNANDEZ-GAONA
Page 5
5www.creativeartistmagazine.com
Page 6
Page 7
7www.creativeartistmagazine.com
Page 8
8www.alicesfineart.comA lice Hernandez-Gaona created a gallery full of her beautiful oil paintings before losing her battle with ovarian cancer. From the moment Alice started painting, she knew she had found the thing she was here to do. It seems that Alice inherited the artist gene from her father Alfred Hernandez who was also an artist. Alice leaves a legacy of her fine art works with her husband Phil, who invited me into their home and took me on a journey that I will always cherish and remember. My message to Phil was that his beautiful wife Alice leaves a legacy that touch other people's lives far beyond her own. It seems Alice's spirit was watching over Phil and I even before coming to their home. It started while on the phone when suddenly a beautiful yellow butterfly fluttered by me on the second floor of my home oice. I made mention to Phil that I just saw a bright yellow butterfly, when Phil said he saw a yellow butterfly at that exact moment. This connection to Alice continued and, on the day, I arrived at their home again we were visited by a single yellow butterfly.As I entered their beautiful home, I noticed several of Alice's masterful works of art on display as far as my eyes could see. After settling in and unpacking my recording equipment, Phil pointed to a picture on the wall by the door. I turned to see and was completely captivated
WWW.ALICESFINEART.COM
Page 9
9www.creativeartistmagazine.comby the brilliant yellow colors reflecting from the painting. Phil asked me if I noticed the cross that is reflecting in the water. I said yes. Phil told me that this painting had a significant impact on him because of the unintentional cross reflecting in the water and it was also one of Alice's last finished pieces before passing away.
Page 10
Page 11
11www.creativeartistmagazine.comAs we sat to conduct our interview, I could feel how painful it was for Phil as he started sharing details of Alice's life and her work. Phil said that Alice did a lot of landscapes, but her specialty was still life art that was reminisced of the renaissance period. This style of art is called "chiaroscuro" which means light and dark, which is the contrast that gives volume and definition to a subject. This is the style you can see in painting by such artist as Rembrandt and Leonardo di Vinci. Phil stated that Alice's style was influenced by her teacher, famed artist David Leel, and that she truly admired him. In fact, David even worked with Alice in the space we were currently occupying. Alice with David Leel
Page 12
12www.alicesfineart.comAs Alice's husband Phil took me around her home studio, he told me that he left everything as she left it. Looking around, it was as if time stood still as Phil beckoned me over to the unfinished painting she was working on before she passed away. It was of one of her favorite props, that of a horse located next to what look like a shadow box. It was then that Phil showed me a picture and said that she was so passionate about her art that she would come in even while on hospice with tubes in her and in pain still wanting to paint. Phil told me that Alice was truly a dedicated artist even stretching her own canvas, using brass nails and rabbit skin glue. Being authentic to the style of art she painted was also something that Alice took pride in.
Page 13
13www.creativeartistmagazine.com
Page 14
14www.alicesfineart.com
WWW.ALICESFINEART.COM
Page 15
15www.creativeartistmagazine.com
Page 16
16www.alicesfineart.com
WWW.ALICESFINEART.COM
Page 17
17www.creativeartistmagazine.com
Page 18
18www.alicesfineart.comLe: Crystal Cove Center: Alice's painting of the photo (inset circle), where she used her imagination to create an entirely dierent scenery to place her subjects.
WWW.ALICESFINEART.COM
Page 19
19www.creativeartistmagazine.comAs we continued, Phil pointed to a large shelf filled with various props and artifacts. Phil said that this was Alice's muse for many of her paintings. The whole experience had a surreal feeling to it. It was as if I could feel Alice's spirit as we walked around the room she used as her home studio. Then the pace slowed as there was a beautiful silence in the room as I stared at the area around her unfinished last piece. As I took time to notice all the little details of various things that surrounded the area. Phil noticed me staring at the book by David Leel laying on the table to the right side of the canvas and said that there was a lot of David's influences in the things that Alice painted. I could tell that this was diicult for Phil and at the same time it seemed to be very therapeutic and I asked him if I could take a picture of the area. With his permission I took the pictures that you see here in the magazine.Now that I had my camera in my hand, Phil once again took me to the shelf and oered some of the details to the props and artifacts by adding that they were things that she acquired all over the world on her many travels. Phil pointed to them sharing where each one was from by telling me the decanters were from Egypt, pots from France, and that some of the other artifacts where from China and Japan as he pointed to the Terra cotta warriors and the Tang horses. Phil said the Tang horses were especially favorites of Alice's and that I could see them in her paintings displayed throughout their home.As we continued our interview, I noticed Phil sadness turn to pride as he boasted about his wife's beautiful paintings. It seemed showing o Alice's painting was therapeutic for Phil, as he would shift us down memory lane sharing all the interesting facts about her paintings. Phil pointed to a painting an told me that it was a place that they would visit at Crystal Cove. Phil told me that this picture was special because the whole place is being renovated and her picture captured a moment in time. Adding this is unique because he still runs there along that beach and sees the house now fully renovated brings back memories of his and Alice's jogs along that beach. Phil was calm and yet filled with emotions as he pulled out another painting and gave me more wonderful stories. Each painting had a story as Phil filled me in on the various details behind many of Alice's paintings. Then as if to prepare me for our journey, Phil, said Alice's painting were oil-based paint and that she did landscapes and portraits of things and pictures that she saw and sometimes adding her own touch to them by changing colors or entire backgrounds. While at other times she simply painted from her own imagination. This was a unique experience for me as it wasn't just seeing the paintings but also understanding the reason for the paintings that gave me a greater understanding of the cause and the eect of them. Above: Book by David Leel laying next to Alice's work area and the shelf containing several of Alice's artifacts that she used to draw inspiration from.
Page 20
20www.alicesfineart.comPhil said the next thing was to get Alice's work recognized. Phil knew that each year Laguna Beach held an art festival, that you could get your work juried in. This is when they select an artist to be on display. Phil said that once again, Alice really didn't think her work was good enough and decided to wait.Shortly there after, Alice's work started getting noticed in the art community and she started receiving ribbons and recognitions for her paintings. Alice then got juried in at the famed Laguna Beach Art Festival. According to Phil, that's when things took o for Alice and her confidence in her work was peeked, and she decided to paint full time.Phil said, Alice saw a picture and said, "I can do this". That's when Phil once again showed me the reference picture and the resulting painting which made the whole experience even more surreal for me. Phil said that after seeing that she had such a natural gift for painting, he had to ask her, why wasn't she pursuing this as a career. Phil explained that prior to painting, Alice was in oice supply sales. He told Alice this is what you should be doing, as he referred to her paintings. Phil told me that when the economy took a dive in 2006 and many of Alice's big contract were reduced, is when Alice decided to take Phil's advice and started painting more. Phil tells me that in the beginning Alice had a very modest opinion regarding painting for a living. However, with Phil support and encouragement she embarked on a journey of a lifetime by fully engulfing herself into painting.Above le: Post card Alice told Phil she could paint. Above right: Alice's painting
Page 21
21www.creativeartistmagazine.comAlice painted several angels and took part in a fundraiser in which she donated funds to the Queen of Hearts Foundation to help bring awareness to ovarian cancer the silent killer of women. Part of why it's so deadly is late detection. By the time Alice was aware she had the deadly disease she was close to stage 4, which is when the cancer invades a major organ. Although going through an aggressive and invasive surgery that removed her uterus, spleen, ovaries along with chemotherapy Alice lost her battle with this deadly disease and passed away at home on June 6, 2017 at just 54 years old. Contact Us send
Page 22